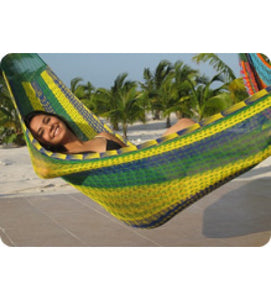 Product Code: Mayan 8
Hammock #8: This is the largest hammock we carry in stock. A whole LARGE family can fit in.
This is our best recommendations for group get togethers, parties or large families. The rule is always
to go bigger. As the larger the hammock the more comfortable it will be.
Dimensions: L 13ft / W xxft
Weight Capacity: 3 adult / 880 lbs
Item Weight: 4.40 lbs
Color options:
  Cool (blues/greens)
  Warm (yellow/orange)
  Multi colors (mixed)