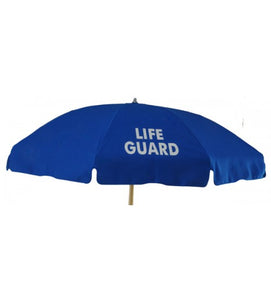 Product Code: 845CBC
Commercial Umbrella - 7.5' Round Pop-Up with fiberglass ribs, no tilt, and no crank.  Custom made cover is made in the USA.
FEATURES:
7.6 mm fiberglass ribs
Wood center pole
Center pole is 1.5" diameter
Pop-Up lift
8 panels and ribs
92" height
68" head clearance
Commercial use beach umbrella
Featuring Outdura (made in the USA) and Sauleda marine grade fabrics
Digital custom logos can be ordered for an additional charge, lead times are 3 to 6 weeks
All graphics are subject for review
Graphic pricing provided is presented as a guide, and subject to change
Pricing is based on a per logo per panel (if you want more than 1 logo, you must order the number of logos you want per umbrella) 
Free hanging valance
Table Coverage 48" diameter
White trim, unless you call to specify otherwise (800) 738-7229
Ships in approximately 15 days 
Please call to customize umbrella (800) 738-7229. 
Outdura stripes (5% upcharge)
Alternating panels - 2 colors (5% upcharge)
Sunbrella solids fabrics (20% upcharge)
Alternating panels - 3 or more colors ($40)
Digital Artwork can be ordered. Customer must provide artwork, a vector file .EPS or .Al is the preferred format.  If those are not available the following can also work: PDF, JPEG, GIF, .DWG, .BMP, .CMG, .EMF, .FH, .PSD, .TIF, .WMF.  If clean artwork cannot be provided, charges for additional artwork will be quoted.  Proofs are provided free of charged.  All proofs must be approved before a job is started.  Please be precise in the details about the graphics.  Only a limited number of corrections are permitted before additional artwork fees are applied.  Once graphics are approved, the order is final, no returns or exchanges.  Customer assumes all responsibility of the artwork.
Additional Artwork Fees: Oversized artwork larger than 16"x16" or 256 sq. inches will be charged an additional 40% per logo.
Warranty:
Steel rib umbrellas are covered by a 1 year warranty from defects on the original materials and workmanship.
Frame, ribs, bell caps, hubs, and workmanship on cover are covered by 1 year manufactures limited warranty.
Outdura marine grade fabrics are covered by Outdura's 6 year limited warranty
Sauleda marine grade fabrics are covered by Sauleda's 6 year limited warranty
Acrylic fabric comes with limited warranty that covers against fade, dry rot, and shrinkage.  These warranties DO NOT cover labor in installation supplied by dealer.
Warranty DOES NOT cover any wind related damage, acts of God, damage due to inclement weather conditions, damage during shipment, failure to secure umbrella properly, vandalism, or neglect.
Any warranty claim will be subject to review.  The customer will be responsible for shipping to inspect and repair.
If the umbrella is found to be warranted, then the return shipping cost are covered under the warranty.
If the umbrellas are not warranted, the the customer will be billed for the repairs and any return shipping charges.
THIS IS A CUSTOM MADE PRODUCT, ALL SALES ARE FINAL, NO RETURNS, NO EXCHANGES.